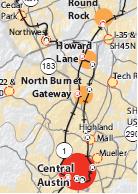 A Revised CAMPO 2035 Regional Growth Concept has been drafted, and is available for public comment. The document is available here.
The image to the left shows projections for "activity centers." Here they show North Burnet Gateway and Howard Lane projects as medium, an the equivalant size to Round Rock(!), while the new Mueller project is rated as a small center. Medium centers in the report are targeted as 9,000 to 75,000 people with 9,000 to 40,000 jobs.
The public can comment on the Revised Draft CAMPO Growth Concept between now and June 22, 2007. Comments can be directed to Campo Liaison Stevie Greathouse.