Thank you to Karl Hanson with H&H Design and Build and all our many Volunteers for making our Annual BOPA event a huge success!
On Saturday, April 9, the Milwood Neighborhood Assoc was proud to host our Batteries, Oil, Paint and Antifreeze (BOPA + styrofoam) collection event after a 2 year break due to COVID restrictions.
We had a overwhelming response from the area and are proud of how much we were able to recycle and keep out of our landfills!
Special thanks goes to all of our volunteers – Carolyn, Bethany, Johanna, Dessie, Michael, Dale, who made the event run quickly and smoothly for all!
We could not have hosted this event without support and manpower from our sponsor, H&H Design and Build, and the Hanson family: Karl, Susan, and Evan. H&H took a huge trailer of hazardous waste and two large van FULL of items to be recycled! Thank you, H&H Design and Build!
Make sure you look them up for any remodeling needs you might have!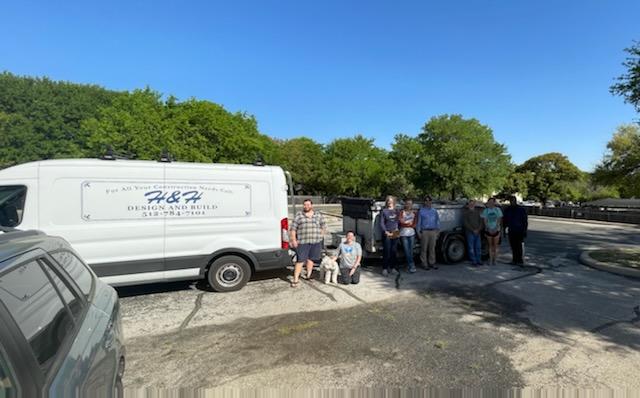 Details from prior to the event:
Start gathering those dead batteries, used oil and oil filters, leftover latex paint cans, and antifreeze PLUS clean/dry styrofoam and plastic film!
Because Milwood Neighborhood Association will be collecting Batteries, Oil, Latex Paint, Antifreeze, Styrofoam and Plastic Film on Saturday, April 9th, 2022 from 8:30-10am to St. Stephen's Baptist Church.
We must close at 10am or when we fill up to be able to get the materials to the City site and unloaded before they close at noon.
We will not be accepting other household hazardous wastes including: oil-based paint, paint thinner or stripper, cleaning chemicals, pool chemicals, pesticides. Those have to be delivered individually, though you are welcome to follow us down there and drop them off.
This event helps us to fundraise and gain members, so it is free to MNA members that are current on their $15 annual dues or donate $10 or more to Balcones Park. Not a member? It's easy to skip the line and join online or at the event. We are also accepting non-member drop offs for a suggested donation of $10+ as a park fundraiser. 100% of the donations raised will go to improvements in Balcones Park.
We're also looking for volunteers for our collection event. Sign up by emailing us at milwoodna1gmail.com . We need folks to corral the cars, unload vehicles, load the collection truck, and assist with separating the collected materials. If you're looking for a great opportunity to help serve your neighborhood, meet your neighbors, and protect the environment, come join us by emailing us at mnaboard@milwoodna.com.
A BIG Thanks to Our Event Sponsor & Neighbor:


Thanks Karl Hanson for helping us make this event possible!