September 2016 Trail update – see updated maps below for detours around construction areas Trails in/around Milwood!   Bike Paths Map in Austin
Your Signature is Needed on the Petition to help us get a grant to make much needed repairs to the Walnut Creek Trail that runs on the East side of Balcones Park along the creek! It just takes 1 minute! Thanks! Click HERE to sign the Petition.
Update for Balcones Park Trail behind Scribe Dr to connect to Mopac & North Walnut Creek Trail (updated 12/10/2015).
The City has accepted a switchback design submitted by MNA's Parks & Greenbelt Committee Chair, Erik Harris, for the steep section of the trail behind Scribe Drive. The City is also working to get MNA, WXNA and Ridge Riders to provide us a general permit that follows the switchback design and allows for a intermediate trail to be established so the steep section can begin to re-vegetate and hopefully slow the erosion.
Currently our latest sticking point is a Low Water Crossing that is proposed to get the trail across Walnut Creek, near the location where a bridge had been planned and partially built. The City now plans to demolish the bridge due to flooding concerns. We feel that a Low Water Crossing is NOT a good option because any water flowing in the creek will go over the path. This means any time it rains, the water that flows in the creek (usually for a few days after rainfall and possibly for weeks or a month during wet periods), there might be anywhere from a few inches of water to a foot of water crossing the path. We need your feedback on this.
Please take our survey so we can provide the City with greater feedback on the trail.
Want more details? Absolutely, email us at mnaboard@milwoodna.com
Update for Balcones Park Trail behind Scribe Dr to connect to Mopac (updated 5/31/2015)

The City had planned to split the trail project into a couple of sections due to funding issues and to coordinate with a sewer project planned for this area. The City's design consultant is looking into some issues with the original design, specifically, the steep section of trail between Amherst and the ballfield off Scribe, and how to cross the creek (the bridge that was partially constructed will have to be demolished and a different crossing chosen due to flooding concerns). The City's plan is to include the portion of the trail past the ballfield to Mopac with the sewer line project scheduled to start April 2016 and finish in Dec. 2017. They have projected a similar timeframe to complete the rest of the project (Amherst to ballfield area). We are expecting an update by mid-June.
Don't Miss these Trails in/around Milwood!  Updated Sept 2016 with Detours*
*Due to resumed construction in Balcones Park parts of the trail from Balcones to the ballfield off Scribe and to Mopac and the Northern Walnut Creek Trail have been barricaded.  We have updated the park trail maps to show a detour around the work zone. 
Balcones Park to Dorsett with connection to 2016 Detour (Blue Trail)
This track follows a trail from Dorsett Road under Duval Road behind San Marin Apartments, back under Duval Road and into Balcones Park.  At the east end of the trail shown below you can pick up a detour to go back via Balcones Park or continue to Mopac and the Walnut Creek Trail (see the next map for more…)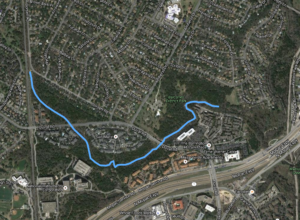 Balcones Park to Mopac and Northern Walnut Creek Trail with 2016 Detour (Orange Trail):
This track takes you from a trail head in Balcones Park at Amherst Drive to Mopac and the Northern Walnut Creek Trail.  This route provides a detour around ongoing construction in the park.  There are a lot of side trails and alternate routes to explore east in Balcones Park and east of Mopac. Once you reach Walnut Creek park there a many more trails.  See the Walnut Creek trail map for more details.
Yett Creek Park to Riata (Green Trail):
This track shows several trails within Yett Creek Park and a trail to Riata Park which features a large pond with abundant turtles, fish and waterfowl.  Unfortunately access to Yett Creek Park from Milwood has been complicated by the removal of the railroad crossing on Dorsett near Enchanted Forest but this area can be reached by taking Duval Road to West Cow Path or Parmer to Riata Vista Circle.