Thursday, July 4th is our 16th Annual Fourth of July Parade & Picnic!
Come watch, walk or ride in the parade, eat burgers/hot dogs, listen to Austin Civic Wind Ensemble, meet neighbors, win prizes, support our neighborhood & park and celebrate our Independence as a nation!!
The Patriotic Contest will be held for the best decorated walkers, riders and/or float so grab your friends and neighbors and get decorating!! The 1st prize will be Schlitterbahn tickets courtesy of Austin Kid's Directory! Everyone in the parade is eligible and anyone can join in the parade – just gather at Milwood Baptist Church around 9:30am and fall in line. Parade kicks off at 10am.
Patriotic Music will begin soon after the parade arrives at the park. We are so very excited to have Austin Civic Wind Ensemble back this year!
Check in at the membership tables to get your Raffle Tickets and a Grand Prize Ticket either at the church or at the picnic at the park. So don't forget your $15 for dues to support MNA and any extra for tipping the band. Additional Raffle Tickets can be purchased at $1 per ticket for the chance to win lots of other great prizes totaling over $1,000 in value! All the proceeds for MNA raffle tickets sold will go towards improvements at the park.
Volunteers and Shade Tents are needed. Sign-up here.
If you can't make the picnic and want to pay your $15 dues click here. It is easy & secure.
Parade & Picnic Schedule – Thursday, July 4th
9:30am: Gathering for Parade at Milwood Baptist Church (12217 Cassady Dr) All are welcome to walk in the parade & win the Spirit Contest – just show-up & fall in line.
10:00am: Parade Begins & travels down Cabana Ln, left on Eton Ln, then into Park (Click Here for the Parade Map)
10:30am: Parade Ends at Balcones Park & Spirit Contest for Costumes, Bikes and Floats
10:30am: Austin Civic Wind Ensemble is BACK to play for us!
11:00am: Lunch Begins (Burgers/Hot Dogs/Vegetarian Option & Cold Drinks)
11:30am: Raffle Drawing Begins
Thank you to our Event Sponsors:
Habitat Hunters Realtor, Melissa Wile
Realty Austin, Shannon Reeve
TCP Real Estate, Samantha Mitchell & John Cotten
H&H Design & Build
Austin Diagnostic Clinic
Textruss, Inc
The UPS Store – Parmer/Mopac near HEB
Milwood Baptist Church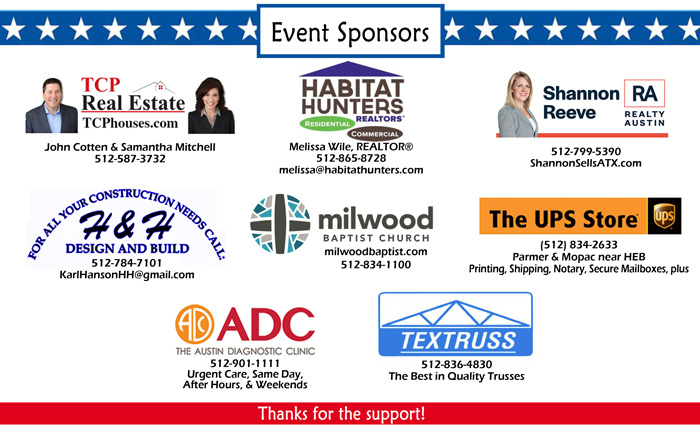 Thanks to our Entertainment, Food and Drink Donors:
Austin Civic Wind Ensemble
Covenant United Methodist Church
Silver Grill Cafe
HEB – Parmer and McNeil
Austin Kid's Directory
Costco Wholesale
Thanks to our Raffle and Parade Prize Donors: (Over 20 prizes worth more than $1,500!)