9/29/19 update  The City project to extend the Northern Walnut Creek Trail to Amherst has been substantially complete for many months, however several design deficiencies came to light as the trail was approaching completion.  We continue to insist that the trail be properly completed so that we have a safe, and environmentally sustainable trail!  Please see  Walnut Creek trail – Replace the Base! for more information and how you can help!
10/6/2018 update
The City project to extend the Northern Walnut Creek Trail to Amherst is well underway.  Construction was originally expected to last approximately 6 months, however recent rains have slowed progress so the completion is likely to extend into November.  walls and drainage culverts have been installed.  Concrete pours for trail surface will be starting very soon, weather permitting!   see Northern Walnut Creek Trail Page for more information.
This work has closed several trails so we have put together a map to help navigate around the work area:  2018 NCWT DETOUR   Please respect the "Trail/Sidewalk Closed" signs and "Restoration in Progress" signs.  Also, please do not cut new trails – if not properly located new trails can cause soil erosion and damage vegetation.  Some of the restoration in progress signs are a result of such trails.  We will work with the City after construction is complete to reconnect existing trails where possible.
** see updated maps below for detours around construction areas Trails in/around Milwood!  
Balcones Park to Dorsett with connection to NCWT (Blue Trail)
This track follows a trail from Dorsett Road under Duval Road behind San Marin Apartments, back under Duval Road and into Balcones Park, connecting to the Northern Walnut Creek Trail (NCWT). At the east end of the trail shown below you can pick up a detour to go back via Balcones Park or continue to Mopac and the Walnut Creek Trail (see the next map for more…)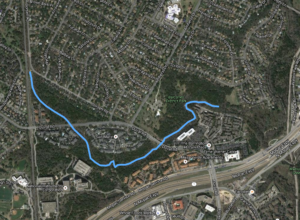 Balcones Park to Mopac and Northern Walnut Creek Trail with 2018 Detour
This map shows a route from Balcones Park towards Mopac and the Northern Walnut Creek Trail (blue trail).  This route is paved although some areas are constructed with a rough surface.  The route provides a detour around ongoing construction in the park.  There are side trails and alternate routes including the green trail that can be used to make a loop back to the parking lot.
see 2018 NCWT DETOUR   for a larger scale map
Once you reach Walnut Creek park there a many more trails.  See the Walnut Creek trail map for more details.
Yett Creek Park to Riata (Green Trail):
This track shows several trails within Yett Creek Park and a trail to Riata Park which features a large pond with abundant turtles, fish and waterfowl.  Unfortunately access to Yett Creek Park from Milwood has been complicated by the removal of the railroad crossing on Dorsett near Enchanted Forest but this area can be reached by taking Duval Road to West Cow Path or Parmer to Riata Vista Circle.