Want to volunteer at the July 4th Parade & Picnic on Thurs, July 4th? Or do you have a shade tent or table you could loan us to use? Email us at mnaboard(at)milwoodna.com.
We hope you can join us for the neighborhood's Independence Day Parade & Picnic, which is always the neighborhood's biggest event! A great time to socialize with neighbors, renew your $15 membership dues, compete in the best decorated bike/walker/float, munch on some free burgers/hot dogs/veggie tacos, and win some great raffle prizes totaling more than $1,500!
Remember to bring $15 for your membership dues to get a Grand Prize Ticket and a Raffle Ticket. Additional Raffle Tickets can be purchased for $1 but are not eligible for the Grand Prizes. Our Raffle Ticket Sales will go to Fundraising for Balcones Park's Trails, Pool and Playground.
Parade & Picnic Schedule – Wed. July 4th
9:30am: Gathering for Parade at Milwood Baptist Church (12217 Cassady Dr) All are welcome to walk in the parade & win the Spirit Contest – just show-up & fall in line.
10:00am: Parade Begins & travels down Cabana Ln, left on Eton Ln, then into Park (Click Here for the Parade Map)
10:30am: Parade Ends at Balcones Park & Spirit Contest for Costumes, Bikes and Floats
10:30am: Austin Civic Wind Ensemble is BACK to play for us!
11:00am: Lunch Begins (Burgers/Hot Dogs/Vegetarian Option & Cold Drinks)
11:30am: Raffle Drawing Begins
Thank you to our Event Sponsors:
Habitat Hunters Realtor, Melissa Wile
Realty Austin, Shannon Reeve
TCP Real Estate, Samantha Mitchell & John Cotten
H&H Design & Build
Austin Diagnostic Clinic
Textruss, Inc
The UPS Store – Parmer/Mopac near HEB
Milwood Baptist Church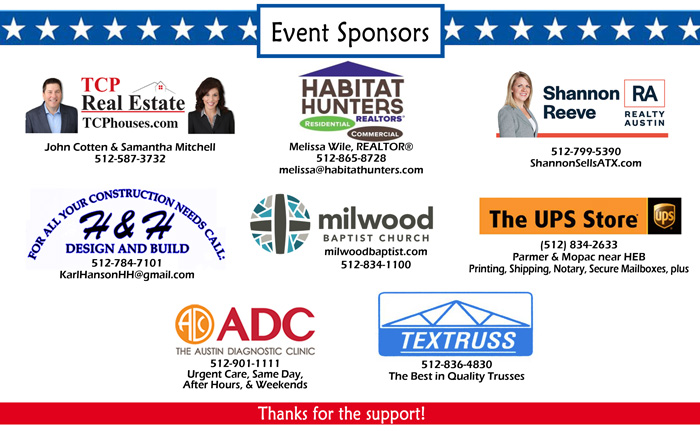 Thanks to our Entertainment, Food and Drink Donors:
Austin Civic Wind Ensemble
Covenant United Methodist Church
Silver Grill Cafe
HEB – Parmer and McNeil
Austin Kid's Directory
Costco Wholesale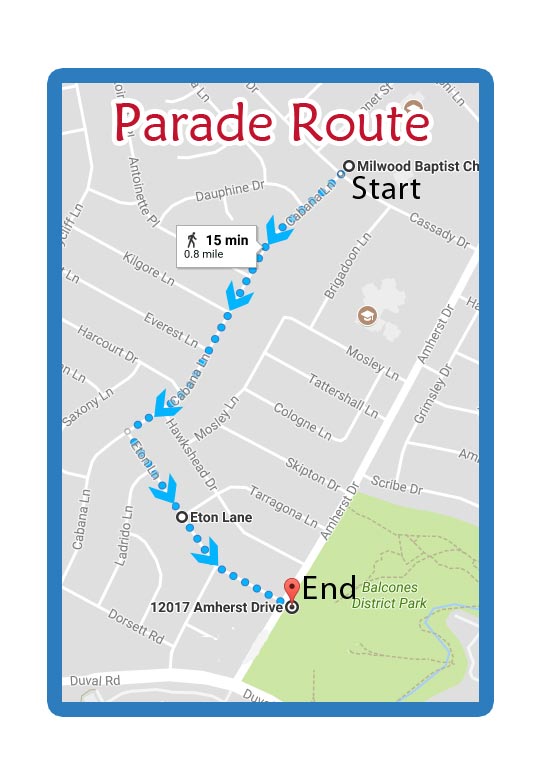 Thanks to our Raffle and Parade Prize Donors FROM 2018, (2019 will be announced soon): (Over 20 prizes worth more than $1,500!)